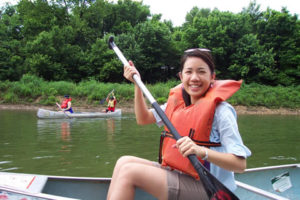 I was an international student from Taiwan.
Before I came here, I just kept searching for any international student group which can provide some assistant for new student. The permission document from school listed the website of International Friendship Outreach. With the excited mood, I found lots of information for international student on the website and I contacted with LaJuana immediately.
When I arrived at Little Rock, I still felt nervous until I met LaJuana and the Girouard family, my host family. They were so friendly and kind that I got rid of my worry easily. Before I found the place to live, the Girouard family hosted me for a week. Frankly, that was a wonderful week. Not only helped me settle down but also let me experience the American life. The most enjoyable moment was that we shared our own country culture to each other and found some interesting difference between our customs.
Since I moved into the unfurnished apartment, a member in IFO donated their extra furniture for me. They take care of my daily life and let me concentrate on my class. I so appreciated all their work.
The other sweet thing was the IFO lunch on every Tuesday in UALR. They provided the opportunity to organize all the international students together. We made friends there and broadened our international vision.
Now I just came here for two months but I feel more confident to get education and live here. Why I am getting familiar about American Life so quickly is totally because the IFO take care me comprehensively. I am so cherish about my friendship with other members in IFO.
And I will become one of them to help the new coming foreign student in the future.
Ivy Hsiao